ClearRisk has received great support from the social media world. From Twitter and Facebook to the risk management blog and LinkedIn, ClearRisk has gathered thousands of active and devoted followers.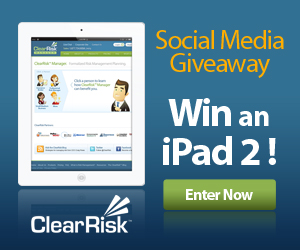 In recognition of their overwhelming support, the ClearRisk team is giving back to their social media followers with the first ClearRisk Giveaway; one lucky follower, chosen from our various social media channels, will be the winner of a new iPad 2!
To submit an entry via our blog, please answer the following question in the comments section below:
What does risk management mean to you?
What do you think of when you hear the term "risk management?" For some of you, it may simply mean "being aware" or "using common sense." There is no right or wrong answer and we aren't looking for a dissertation; just tell us in a sentence or two what risk management means to you in the comments below.
Please see here for full contest details and more ways to enter.
We encourage our blog subscribers to also submit entries via Twitter, Facebook, and LinkedIn. Multiple entries are considered and encouraged, so you can increase your chances of winning by participating on our other social media channels.
If you haven't already, subscribe to our blog to stay updated on the iPad 2 contest! We'd like to thank all of our followers for their continued support.