Our long-time partners Canpro Global just announced their merger with KingReed.
Both companies do some very cool things in Canada and around the world in investigations, security, protection and related services. They do some things that I hadn't heard of before in my 22 years in risk and insurance, things that I really believe are incredibly innovative and valuable to companies.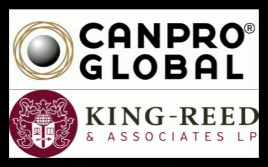 The reason ClearRisk partnered with Canpro in the first place was that I was very impressed with their people, innovative services and their perspective on risk management. They are very much aligned with my view that risk management comes in many shapes and forms and that it shouldn't be inaccessible or complicated.
In the past couple of years I have also gotten to know some of the people at King-Reed and I can honestly say that the companies and cultures seem very well aligned, so I am sure it will be a great partnership!
The gang at ClearRisk wishes our partners at Canpro Global and King-Reed every success! I encourage you to check them out. You won't be sorry!