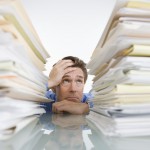 I recently participated in an interview on the risks faced by SMBs with Pam Clark of Business Insurance. Matthew Brodsky of Risk & Insurance Magazine, Jon L. Gelman an expert on worker's compensation and I set out to give small business owners some useful advice on their most pressing risk management issues. Go here to view the full interview.
Matthew and Jon provided some excellent answers, so the entire article is well worth reading! For the benefit of our readers, I want to reiterate 6 important points we covered.
Early Risks to Address
When asked what early risks new businesses should address, most people think of operational or hazard risk. However, the biggest risks facing small and medium businesses today are financial and strategic risks. For financial risk, cash-flow is especially a concern; businesses must consider where the money is coming from to keep the lights on, to pay employees, and to invest in market penetration and growth. Key strategic risks include competition and economic conditions.
Some other important risks, as pointed out by fellow interviewee Matthew Brodsky of Risk & Insurance Magazine, are risks that involve employees. It is vital for businesses to cover employee-related risks such as worker's compensation insurance and healthcare costs. As Jon L Gelman points out, "establishing a business is a hectic undertaking, and the thought of obtaining coverage is easily overlooked."
Commonly Overlooked Risk
I contributed that Reputation Risk is by far the most commonly overlooked risk and that a company's reputation is its single, most important asset! Business owners need to ask themselves: what is my company killer? SMBs need to monitor their reputation. With the ever increasing use of social and new media this has both become easier and harder to do. Harder because every customer has a public forum an audience that they can go to if they are not happy with your company. Easier because these conversations are no longer happening behind closed doors; they are happening in public spaces online. It is not enough to simply sign up for a Twitter account or create a Facebook Page; business owners should monitor online conversations about their brand and participate. In addition, every company should have a social media policy. This ensures that your employees are aware of how their social media use can have both positive and negative impact on the company.
Another commonly overlooked risk is supply chain. Is the business relying too heavily on others to manufacture its product, subcontract part of its service, or deliver the inputs needed to sell its products? With just-in-time inventory and lean business models becoming more pervasive, companies need to be more concerned about where their inputs are coming from and what their contingencies are if they are delayed or lost.
Protect Your Company
I often emphasize the need for every business to have appropriate insurance coverages. It is one of the most important things a business owner can do to protect their company. Find an insurance agent or broker that has experience and a good reputation in representing your industry and work with them to find the right coverages and terms for your risk.
Do as Risk Managers Do
Professional risk managers generally look at insurance as the last tool to take from the toolbox: risks should be mitigated first. Fully understanding your risk and formalizing your risk management process goes a long way! Get a diverse group of your staff together from various departments or divisions, brainstorm a list of risks and prioritize them, then ask what you are doing to mitigate each risk and what you should be doing. Constantly work towards improvement by coming back to the list at least annually to ensure you are on track and that the list is current and accurate. Make it someone's specific responsibility to make sure it gets done.
How to Mitigate Litigation
What is the best way to mitigate against lawsuits? Invest in good legal advice! Laypeople cannot stay on top of the daily changes in laws and legal precedents. Using wrongful dismissal as an example, have a lawyer draft your employment contracts and guide the development of your HR practices. Consider using longer probation periods to be able to fully assess qualifications and how the employee fits in with the organizational culture. Take the probation period very seriously, as this is usually the best time to part ways.
The Best Advice
The best advice I can give to any new business owner is to formalize risk management right from the start. It does not have to be perfect. Considering all risks and planning for how they will be mitigated will help reduce risk-related costs such as insurance premiums, claims deductibles, and downtime. Good risk management protects the reputation of the company and helps it plan for contingencies. This will make the business more profitable and ensure the longevity of the company.
What are some other risks small businesses need to consider and what advice would you give them?
*** ClearRisk Manager can help insurance agents deliver risk management planning to their clients online and can also help companies build their first risk management plan. Be sure to check out www.clearrisk.com/manager to see if ClearRisk Manager can help with your risk management planning.***