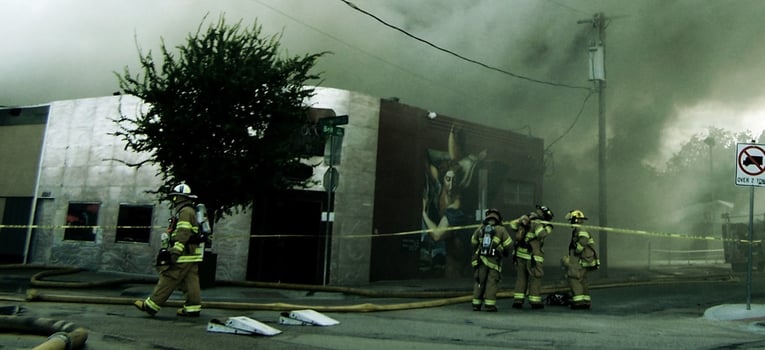 Warehouses in North America incur about $500,000 in losses every eleven days due to unforeseen risks.
When operations include the use of warehouses, it's important to consider potential risks and how to lower the probability of them occurring. Otherwise, the warehouse may be vulnerable to millions of dollars in losses.
Here are four critical risks to consider when assessing an organization's warehouse space:
4 Important Warehouse Risks
1. Fire
Fires can greatly impact warehouses since they are generally large spaces tightly packed with goods. The most effective method for controlling a warehouse fire is a properly functioning sprinkler system. In the event of a fire, organizations should also have a fire protection system that includes these essential elements:
A minimum of two fire extinguishers per floor.

A regularly checked fire detection system.

Fire doors and control doors.

A well functioning evacuation procedure. This plan should be fully documented, shared with employees, and practiced on a regular basis. The Occupational Safety and Health Association (OSHA) provides a detailed guide on employee emergencies and evacuations.
2. Flooding
In order to reduce and prevent the impact of flooding and water damage to inventory or the warehouse itself:
Keep stock off the floor.

Routinely clean external and internal drains of debris such as leaves, waste, and other vegetation.

Prevent water from entering the building by installing permanent or removable barriers to seal doors, windows, and other openings.

Raise electrical sockets to keep them clear of possible flood water.
3. Security
Due to their high volume of inventory, warehouses and distribution centres are often at high risk for burglary and theft from both internal and external parties. Internal threats are posed by employees and third parties hired by the organization, while external threats would involve general thieves.
To reduce the chance of security risks, consider the following:
A) Establish facility boundaries
Use separate areas for dispatching and receiving goods. Where possible, provide physical barriers between these two areas.

Keep the gate to the exterior yard area locked at all times when the warehouse is closed.

Provide audible exit alarms on all emergency exit doors.
B) Establish visitor sign-in registers
Set up a visitor register and do not allow visitors or delivery drivers to go through the warehouse unaccompanied.
C) Install electronic security and surveillance systems
Electronic systems can control access into high-value rooms or cages. The access control system should be capable of providing an audit trail of who entered the cage, when, and for how long.

Use video surveillance systems to record activity in high-value cages and rooms. Cameras should be placed to view entrance points as well as interior areas.

Install intruder alarms in order to enable a fast and coordinated response in the event of theft and vandalism.
4. Handling of environmentally hazardous substances
All organizations have a responsibility to ensure that they're handling environmentally hazardous substances correctly. Ensure that your organization is following the proper laws and regulations for dealing with hazardous substances.
Here are best practice keys for handling and storing hazardous substances:
Store all hazardous substances correctly.

Make sure that all hazardous substances are labeled correctly.

Segregate substances when required.

Use correct procedures when dispensing materials.

Isolate exposures with ventilators at the source.

Make sure you use the right safety equipment.

Have emergency plans in place.

Always dispose of hazardous waste in accordance with the law.
The government typically provides mandatory guidelines for the handling of these substances. For reference, Canada's can be found here and the United States' here.
Effective incident management is imperative in identifying hazards and predicting potential losses in warehouses. By tracking near miss incidents related to the concerns above, organizations can uncover high-risk areas which may not have been known.
It's been proven that by reporting on near miss trends, organizations lower the likelihood and impact of losses, drastically reduce claims and insurance premium costs, and make the working environment safer for employees and visitors.
To learn more about the risks associated with warehousing and distribution follow the link here to NZI Risk Solutions Warehousing Management Guide.
ClearRisk's claims, risk, and incident management system can help organizations with warehouses and numerous physical assets stay on top of their vulnerabilities and lower the cost of risk. For example, the City of Saint John lowered claims costs by 50% through the use of the system. Want more information?
If you found this article helpful, you may be interested in: