Key Stats
Why Risk Managers and Senior Management
love ClearRisk

.
Enhanced risk management. Greater operational excellence.
Reduced the time spent on manual tasks: Up to 84%
Reduced the time spent on preparing claims data reports: Up to 95%
Reduced the Total Cost of Risk (TCOR):

Up to 48%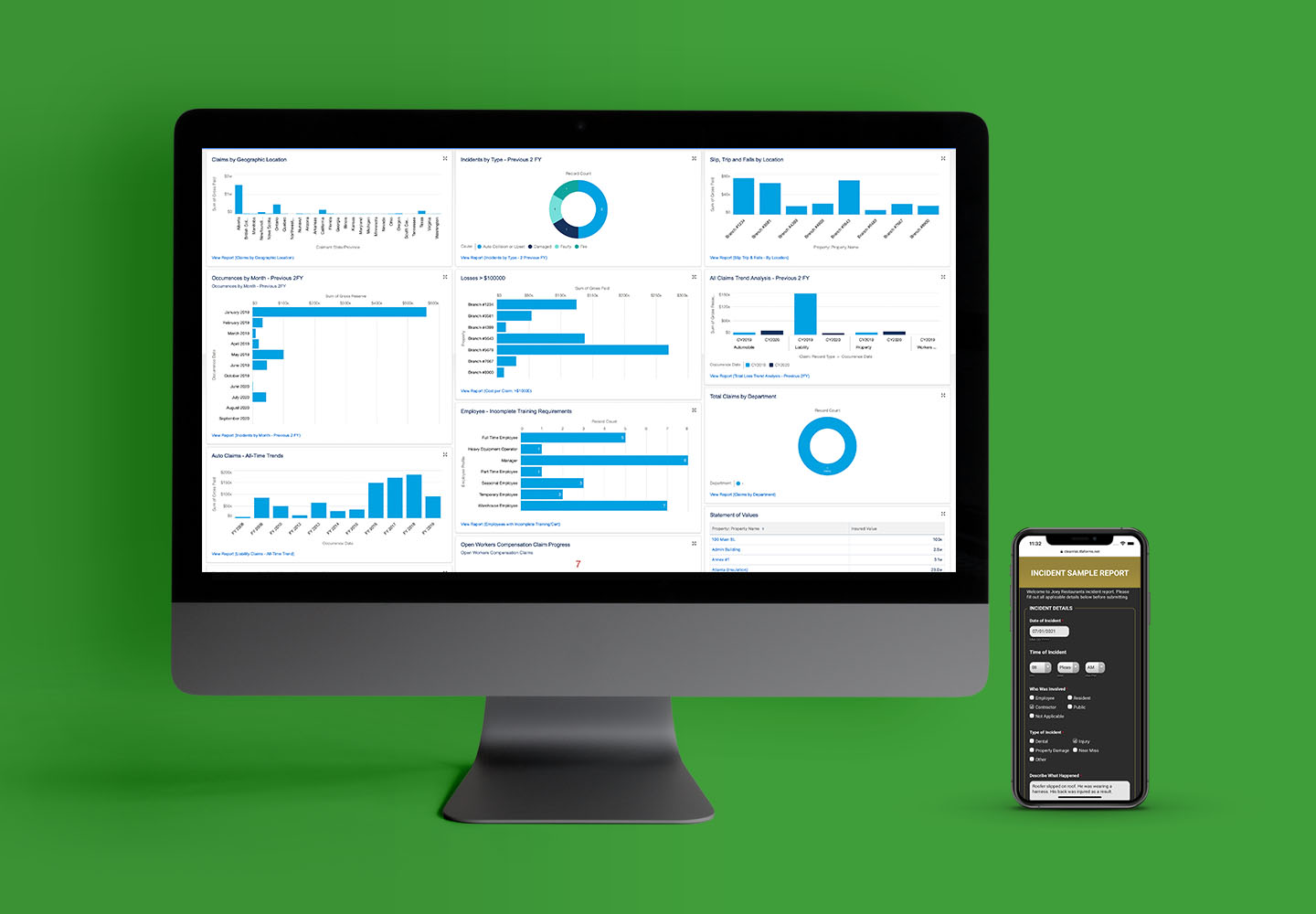 A snapshot of how our solutions have created
value for our customers
over the years.
Features
Manage data
Process claims, incidents, renewals, etc.
Monitoring and analysis (dashboards, analytics, and & insights)
Benefits
Centralized, cloud-based data collection and management
Easy-data collection and accessibility
Streamlined workflows
Reduced data duplication and errors
Insights and analytics to inform better decisions
Operational Efficiencies
Reduced recurring incidents
Proactive risk mitigation
Increased productivity and time on higher yield activities
Enhanced data integrity and accuracy (no duplication)
Increase employee and assets safety
Business Results
Reduced (TCOR)
Removed financial wastage
Increased compliance and accountability
Enhanced corporate memory
Insights & analytics to inform better decisions
Risk Management Solutions
Making the data matter.
ClearRisk's Risk Management Solutions are designed with the business goals of risk managers and senior management in mind. Used by many organizations from different industries for risk data management, analytics, and insights, our solutions have proven time and again to enhance overall business performance through operational excellence.
Insights & analytics to inform better decisions
Cecilia Essien, Insurance and Risk Management Officer, City of Burlington
"I totally swear by ClearRisk, especially the part where we added the online claim form. Before, we would get a claim and have to manually input the information. So now, we have the claim form attached to ClearRisk, and it downloads the information into the system so that I just have to type in the last name and I'm good to go. I love it. I feel like I'm much more efficient in meeting my deliverables. I'm saving a significant amount of time pulling reports, compared to our previous system. It's very user friendly. You don't have to be a computer whizz to be able to use ClearRisk. I can get a lot done in so little time because of how seamless a process it is."
Whitepaper
The ROI of a Risk and Claims System: A Business Case
Interested in learning more?
Let's Chat.
The next step is to schedule a discovery session so we can understand your risk management needs in more detail.