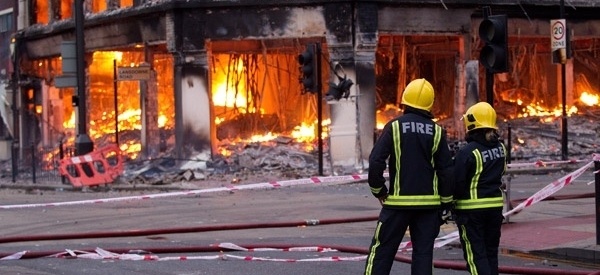 Have you ever considered what would happen to your organization if a fire were to occur? How would operations be affected?
Every year, fire is the cause of approximately $400 million in damages to Canadian businesses. It is imperative that your organization has a plan in place to minimize the likelihood and impact of a fire occurring.
Fire prevention strategies must be implemented to protect both the safety of your employees and the damage that can potentially be done to your organization. Here are five actionable fire prevention strategies:
5 Fire Prevention Strategies for Organizations
1. Ensure the construction of the building is safe
Consider all aspects of the construction, including the type of roof covering materials, exterior and interior finishing materials, and interior layout and separations such as fire walls and doors.
Design the building to fit the use, taking into consideration processes, occupancy, surrounding buildings, etc.
There are general categories of buildings based on their susceptibility and resistance to fire damage:
Fire Resistive – Has the best fire resistance rating, and is generally reinforced concrete or protected steel construction

Noncombustible– Constructed primarily of materials (major structural elements) that isn't combustible. Examples are unprotected steel and hollow concrete block.

Heavy Timber – More commonly found in older construction but is rarely used today. These buildings include structural members that are a very large dimensional wood. Common buildings that used this type of structure are churches and factories.

Ordinary or Frame- Most major structural components are small dimensional wood and some noncombustible. This is common in small commercial and residential construction.
2. Consider hazards within your organization
When designing a fire prevention plan for your organization, it is important to consider and assess the hazards within your organization that can cause a fire:
Cooking equipment

Heating equipment

Appliances

Electrical equipment

Smokers' material

Match, lighter, lamp, candle, taper

Torch, welding equipment

Hot ashes, embers

Chemicals and other flammable liquids
3. Install fire detection and suppression systems
The types of devices and systems used should be carefully considered depending on the type of building, its occupancy and use, and the type of process or property being protected. Always obtain professional advice before installing.
Not only will detection and suppression systems make your building safer and less susceptible to damage, but they also have a positive effect on lowering insurance premiums.
A) Utilize smoke and fire detection devices
Some devices are an audible alarm to warn of detection and in most cases to prompt evacuation.

Some devices are "switches" designed to create a desired response. For example, some fire doors close automatically when smoke or fire is detected, and some fire suppression systems are on these types of switch.
B) Install devices that suppress fires
Examples include CO2 and Halogen systems, wet/dry sprinkler systems and fire extinguishers.

Systems must be regularly inspected and maintained by qualified persons.
4. Plan and post escape routes
Evacuation plans and escape routes should be professionally designed, well displayed, and well-known by staff. Ensure the plans are in compliance with codes regulating fire escapes and fire doors.
Exits must be regularly inspected and maintained to ensure that they work and are not blocked by items stored in halls, or snow or other debris outside.

Keep aisles clear. Keep all furniture or furnishings including screens, coat racks, and potted plants which may be upset under emergency conditions out of escape routes.

Designate a meeting place at least 100 metres away from the premise where employees can gather after they have been evacuated.
5. Educate employees on fire protection
Ensure employees are properly educated on how to identify fire hazards and what to do in the event of a fire. Your organization should routinely perform fire drills, and employees must know:
Where the nearest fire extinguisher is.

Where the nearest fire alarm station is.

Where the nearest two exits are.
These practical fire prevention strategies are a useful tool to help you identify your organization's risks of fire damage and minimize potential losses. To learn more about creating a fire prevention strategy for your organization, follow the link here to the Government of Canada's Planning For Safety Guide.
ClearRisk's claims, risk, and incident management system can help your organization manage assets, communicate emergency plans, and reduce the total cost of risk. Want more information?
If you found this article helpful, you may be interested in: