If you're a large organization with a high incident frequency, large number of physical assets, and a broad range of diverse operations, you've probably considered acquiring a Risk Management Information System (RMIS). However, adopting a new solution may be time consuming due to budget constraints and lengthy RFP processes. This blog will discuss how risk managers can benefit from the tools available to them to develop risk management plans before they are ready to take on a more robust solution.
Some risks can pose serious consequences to your organization if not properly planned for. As your company grows, so does the frequency and severity of your risks. A risk management plan helps in identifying, assessing, and dealing with risks. It includes your strategy on how you'll deal with risks associated with your business. Having a thorough knowledge of possible risks may help you make sound judgments.
Excel is a good software for creating your risk management plan. However, building a plan from scratch takes time and effort. With the following templates at your disposal, you can easily create a plan in no time. This blog will also consider the challenges of using Excel and whether or not your organization is in need of a more advanced tool.
Risk Management Plan in Excel
In the digital world, Excel has become an essential tool for businesses. Even though it's old software, many businesses still use it for a variety of business operations. For companies who need quick computations and results, Excel spreadsheets are their go-to. It provides them with functional yet cost-effective software to keep up with competitors.
There are different techniques that you can use to maximize its features. However, to do this, you need to know some of its basic functions. VLOOKUP, for example, can be used to create a simple risk score in Excel. It is used to look for a value in a column to retrieve a different value from another column.
It functions the same as HLOOKUP. The main difference is that it searches for a value vertically. HLOOKUP, on the other hand, searches for a value horizontally. There are plenty of resources online to learn more about VLOOKUP. Searching for "VLOOKUP for dummies" on Google gives numerous search results.
In calculating the risk score, VLOOKUP is often used with the MATCH function. By having prior knowledge about these two functions, you can get your risk score effortlessly.
Templates For Your Risk Management Plan
The steps for a risk management plan include the following:
Risk identification
Risk analysis
Risk mitigation
Risk monitor and control
This article will give you samples of templates for each of these processes.
Components of Risk Management Plan Template
Risk management plans differ depending on your business type. While that is the case, a simple plan consists of the following elements:
Risk ID
Risk Type
Risk Trigger
Impact Area
Probability
Level of Impact
Risk Score
Strategy
Plans for Mitigation
Status, Date, Notes
Risk Identification
Risk identification is a process that requires creativity and dedication. It focuses on identifying possible risks that might materialize and influence project KPIs. There are a variety of methods for identifying possible dangers in your company.
To do this, the project team will brainstorm about possible risks. The findings of this brainstorming session will be transformed into a risk checklist.
Risk Analysis
Identifying risks is just step one of the risk management process. The next thing to do is to determine the risk's criticality.
It is important to understand the likelihood of risk occurrence and its potential impact. Risk analysis helps determine these data, as well as your project's quality and performance. As a result, you can implement the proper risk response and mitigation.
There are a variety of techniques for risk analysis. One of the most useful tools is the risk assessment matrix.
Risk Mitigation or Response
The third component of your management plan is risk mitigation. It helps create and implement methods to lessen the effect of risks and reduce their occurrence. The primary goal is to reduce the chance of risk incidence to zero. However, this isn't always achievable.
As a result, your team should devise a strategy that reduces the impact of risks on KPIs.
Risk Monitor and Control
Monitoring and controlling risks are also a part of your management plan. It helps in ensuring that the project plan is carried out correctly.
For this reason, your template should make use of the monitoring and controlling function. This is to guarantee that your risk assessment and mitigation plans are effective. Furthermore, it is a continuous process that lasts for the whole duration of the project.
Sample Templates
Monitoring and controlling risks are also a part of your management plan. It helps in ensuring that the project plan is carried out correctly.
1. Risk Management Plan For Businesses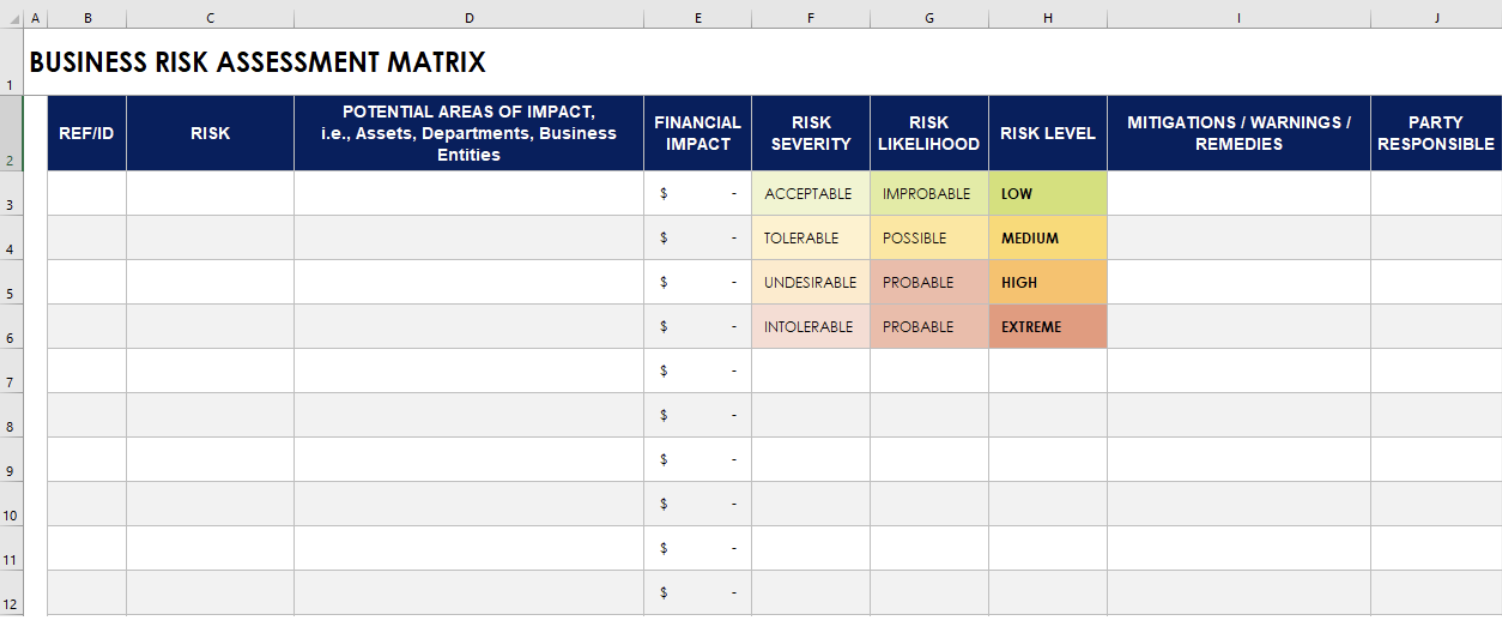 This risk matrix template demonstrates how to foresee risks that your company may face. By doing so, you can plan ahead of time to handle them. If not, they can have a negative impact on your business processes.
With this matrix, you can:
List possible risks, assets, departments, or corporate entities
The likelihood of each risk, and
Readily available preventative or mitigation activities
The effect rating may be related to different things, depending on your business. It can be financial loss, operational issues, a reduction in customers, or any other metric.
2. Risk Management Plan For Property Management Companies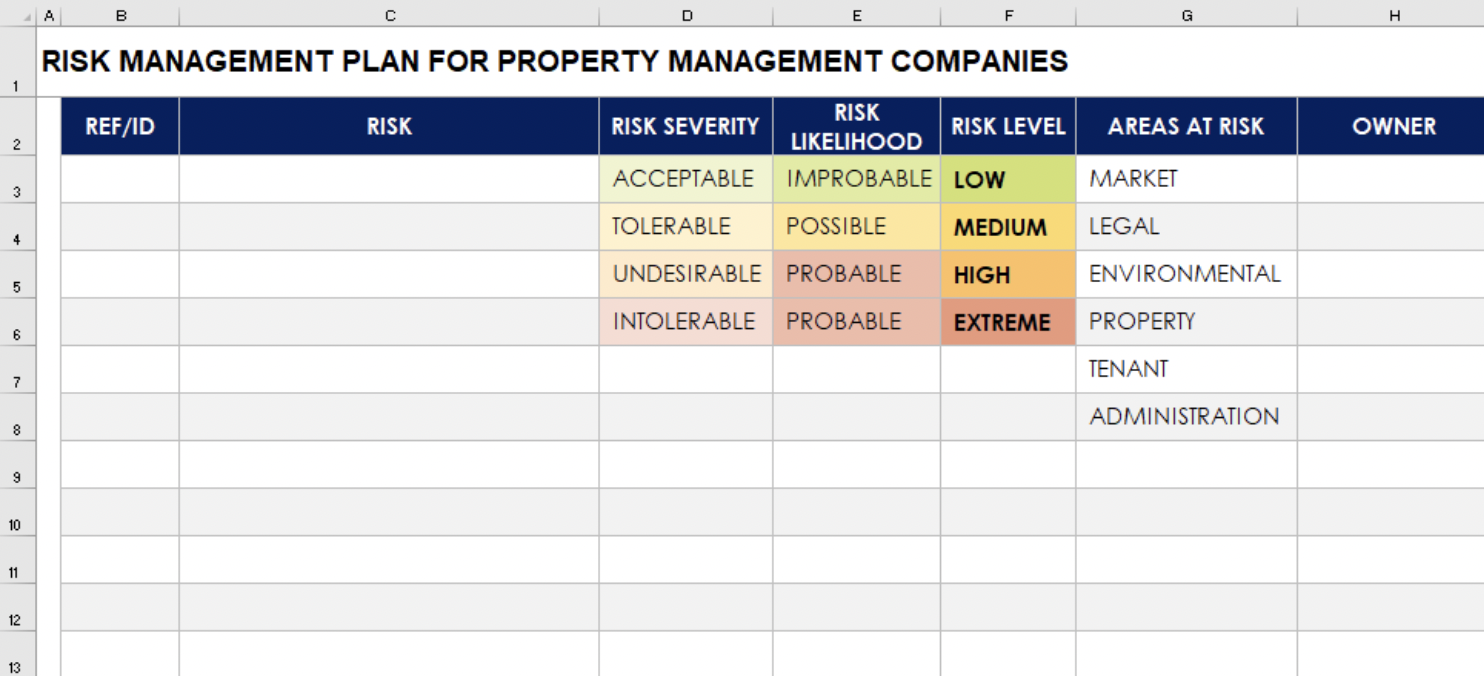 Areas at risk for property management companies include;
Market Risks
Legal Risks
Environmental Risks
Physical Property Risks
Tenant Risks, and
Administration Risks
Understanding the risks in your company is important to constructing a long-term portfolio. Whether it's commercial or residential property, buying a property will always be accompanied by dangers. In the long run, being proactive can save you a lot of time and money.
3. Risk Management Plan For IT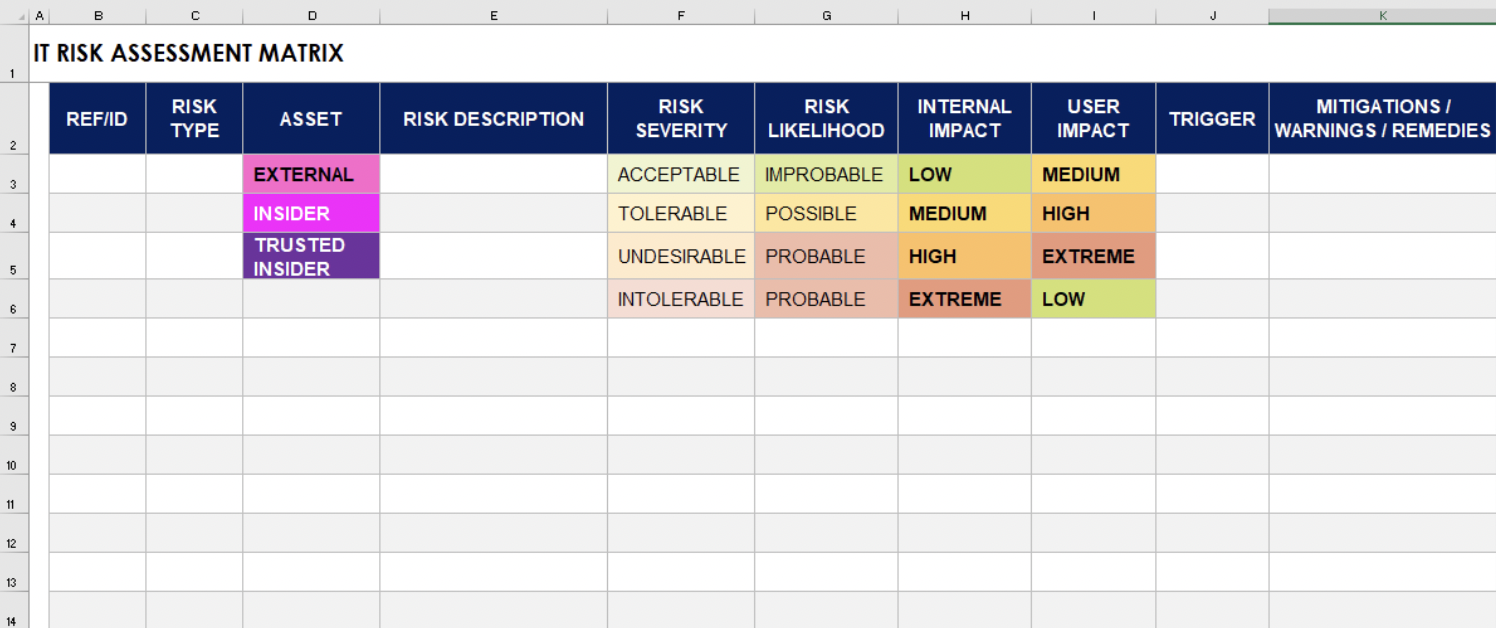 You can use these risk management plan templates for your IT department. It helps you prepare responses to severe risks, limit moderate risks, and monitor less severe ones. With this matrix, you can take into account:
The data and system needs
The time it takes to restore the data/system functionality, and
The number of personnel and equipment required to continue doing business
4. Risk Management Plan For Public Sector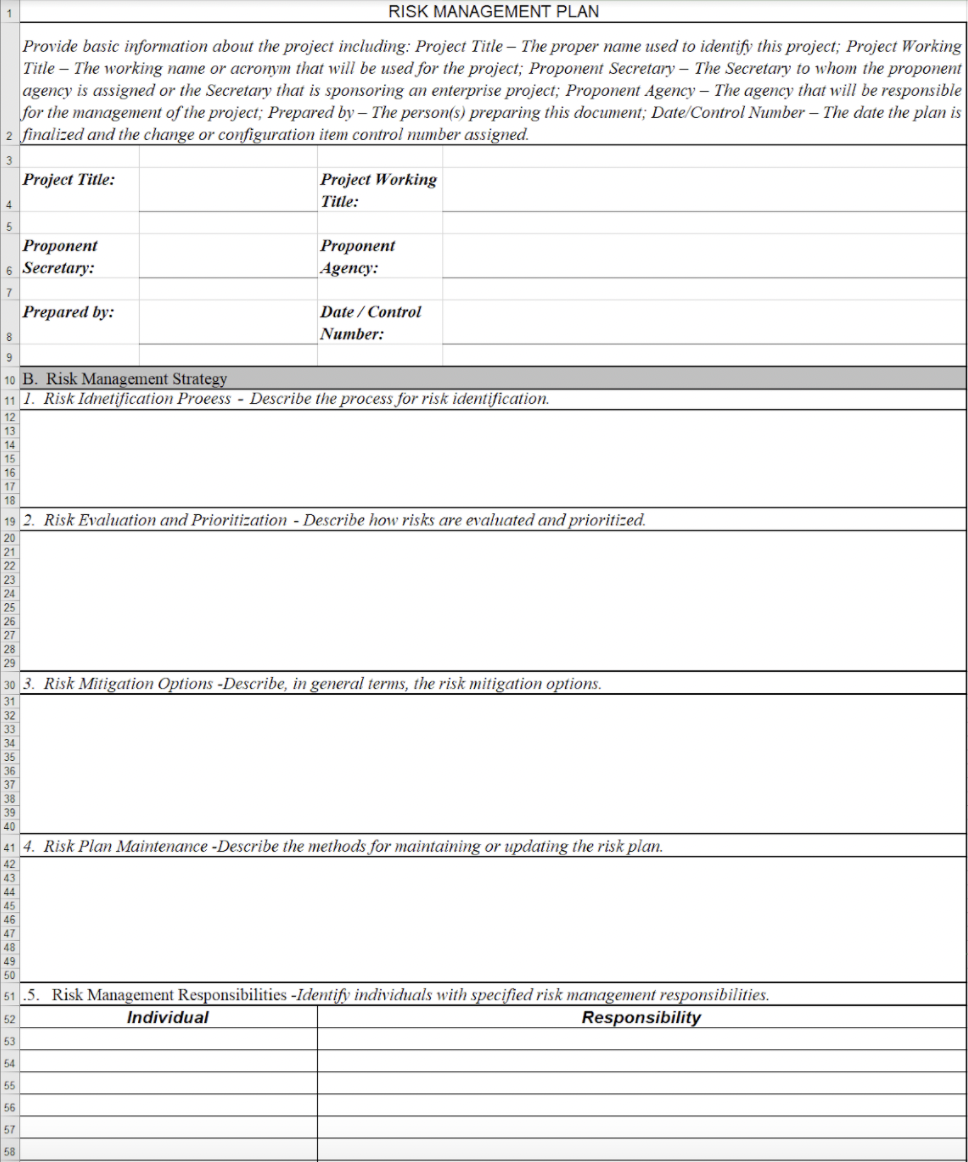 This risk management plan template is perfect for the public sector. It is a simple outline of important details that any department can edit to fit their needs.
It is created for a specific project and allows for the management to describe the risks in detail. Additionally, the steps to mitigate the risks are also illustrated. Lastly, the individuals or employees involved in the project are listed below. Beside them are the responsibilities they have for the project.
5. 3x3 Risk Assessment Matrix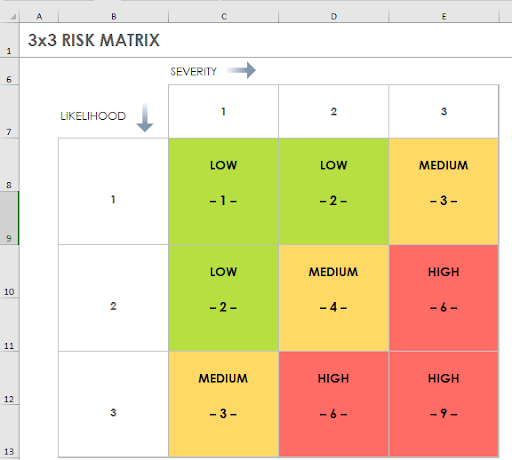 For teams and companies who value simplicity, this matrix template is best for you. The template has three levels of coding. Use the grid to select the hazard that needs to be prioritized.
6. 3x4 Risk Assessment Matrix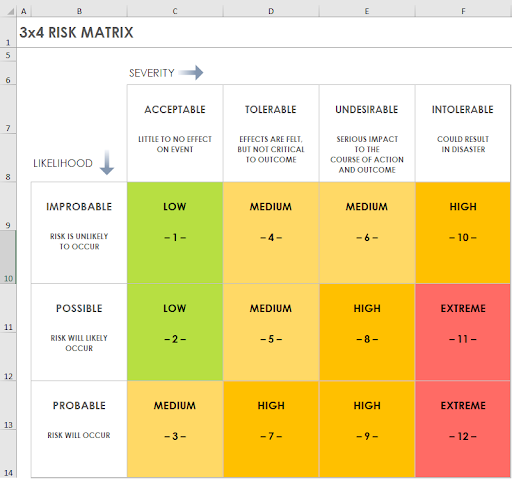 Unlike the 3x3 matrix, this 3x4 matrix employs categorical values for likelihood and severity. After choosing the options for each parameter, use the values in the matrix to calculate the severity.
7. 5x5 Risk Assessment Matrix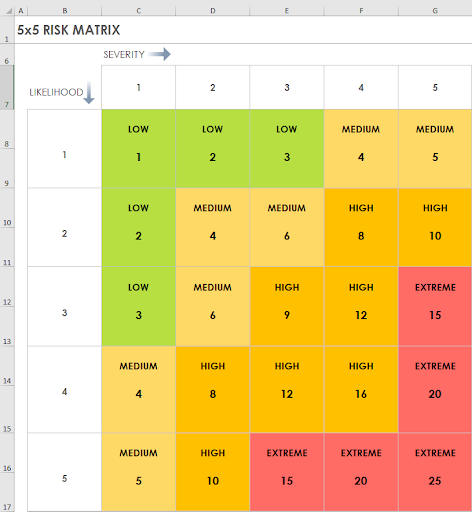 In this 5x5 matrix, additional scaling possibilities are available. It is perfect for businesses that want more comprehensive insight into each risk.
8. Risk Response Matrix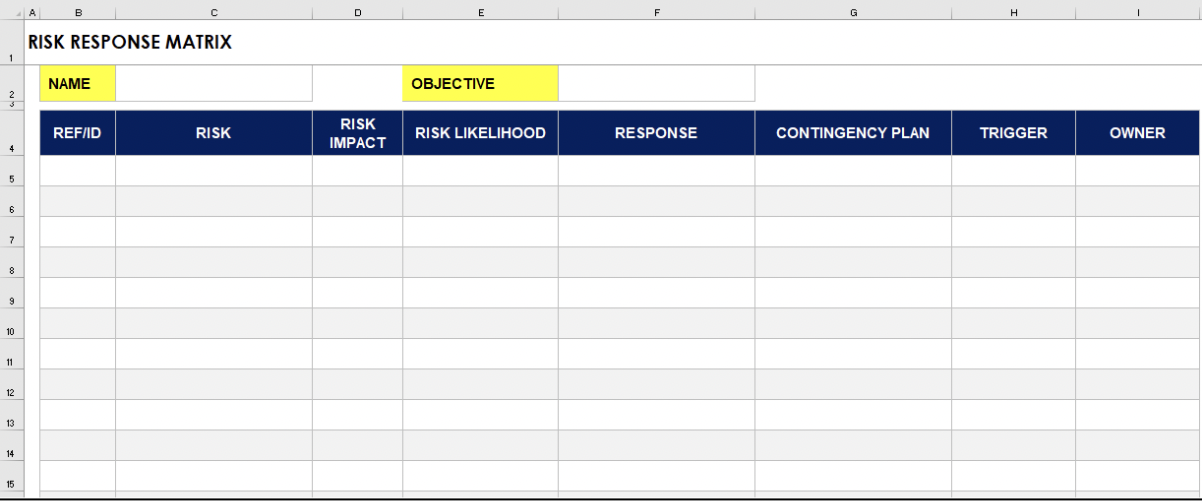 This risk response matrix offers a reaction strategy design in addition to assessing risks. You can list the risks, assess their likelihood and impact, and record the reaction to each. You can also define:
The risk's contingency plan
The instance that initiates the reaction, and
The person in charge of the response
9. Risk Control Matrix

This sort of risk matrix is useful for companies that deal with a lot of risks regularly. It considers the risks and their consequences, as well as the automatic and human controls. These controls are available to assist in reducing the losses accompanied by the risk.
You can edit this matrix to meet the demands of your project. After that, you can use it to develop a risk response strategy.
When to Use a Risk Management Information System?
Smaller organizations might find excel to be adequate, especially given that Excel is a cheaper alternative than an RMIS. The renewal process is typically a good indicator for investing in RMIS. If renewals take about one week, then you can probably go on and thrive with Excel. However, it is important to consider the following challenges of using Excel:
Limited insights, reporting capabilities, and access to information.
Minimal data flow between excel spreadsheets and external insurer and adjuster systems causing low data integrity.
Limited communication between organizational departments and divisions.
Difficulty in allocating expenses to different cost centres.
These limitations typically result in the following issues:
Increased insurance costs.
Increased claims management expenses.
No decrease in frequency and severity of preventable occurrences.
Recurring, preventable claims increase insurance premiums over time.
Inability to implement cost-saving risk management activities.
No data insights with which to manage risk.
Therefore, if you are a large organization with complex operations and a lengthy renewal process, Excel quickly becomes the cause of many pain points. Risk Managers deal with a large number of incidents/claims, insurance policies, and third party vendors are probably better off with an RMIS. RMIS systems, like ClearRisk, provide many advantages, including:
Automated data entry via online web portal & trigger notifications to relevant parties.
Centralized database for storing information related to claims/incidents, policies, assets, contracts, certificates, notes, attachments and more.
Dashboard analytics and reporting allow you to combine data from all modules.
Integrations with external systems and streamlined communication between organizational units.
Reduced claims costs due to better organized and managed files.
Reduction in time spent collecting information for renewals.
Reduction in loss ratios reported to insurers, resulting in lower premiums.
Better data to determine optimal deductibles and greater insights into risks.
The problem is that Excel spreadsheets were not made to manage huge amounts of data or a large number of users. Risk management plans need to be continuously monitored and updated and too many spreadsheets become difficult to keep track of and find when needed. The decentralized nature of spreadsheets leads to data silos across different functions and departments, ultimately causing costly risk management "blind spots".
If Excel has been working fine for you so far, chances are it's not working as well as you think. While excel has its advantages, an RMIS is a far more advanced risk management tool, allowing risk managers to take a proactive approach instead of a reactive one. So, how do you choose the right risk management solution for your company?
Conclusion
Detecting and reducing risks before they occur helps an organization in different ways. More specifically, it will help you provide reliable service and sustain the organization's reputation. Unfortunately, most businesses manually do the risk management process.
Without the appropriate tools in place, it can be difficult to perform risk management. The templates above can reduce your worries and time spent doing the process. However, while Excel has its own set of advantages, RMIS can better streamline your operations.