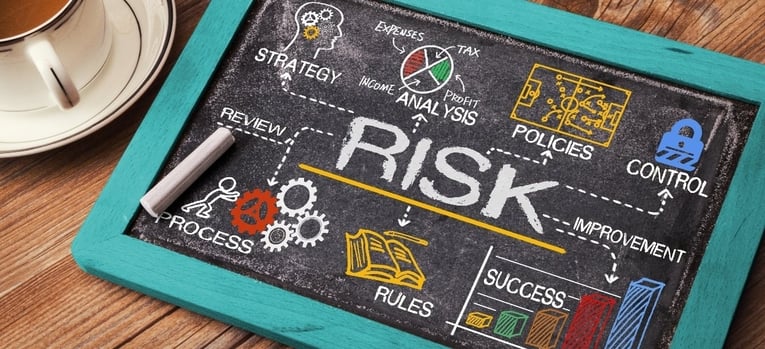 Whether you realize it or not, you're probably employing some kind of risk management in your organization already. As you conduct business, you develop procedures over time to make sure things don't go wrong. Conducting a risk management plan is simply about formalizing that process and being able to devote your resources more effectively.
The first step in this process is identifying the risks that face your organization. To begin, you should understand the four main types of risk.
These are hazard risks, such as fire, weather incidents, or customer injuries; operation risks, such as employee turnover or supplier shutdown; financial risks, such as recession and price fluctuation; and strategic risks, such as new competitors, labour disruptions, and business reputation.
Next, you need to think through and make a list of all the specific risks that could impact your organization. This can be a daunting task, especially for new businesses that don't have years of experience and history to rely on. Fortunately, there are some avenues you can turn to for help:
6 Ways to Identify Risks in Your Organization
1. Consult your insurance provider
Many of these brokers also play a role in helping you to assess your business risks and recommending coverage to protect you against them. If they do not provide this service, they are probably able to recommend a good consultant who can. They can also give you insight on your loss and claim history and identify problem trends.
2. Ask yourself insightful questions
These can reveal some weaknesses in your business that you may not have thought of. Is your manufacturing process fully safe? Are all your employees properly trained? What would happen if you lost your biggest customer? If you got sued, would you know how to handle it and who was responsible for the error?
3. Conduct research online or with other professionals in your industry
Every type of business will have its own unique trends and common occurrences, and it is helpful to gain expert insight on what these might be. Follow the news of companies similar to yours and pay attention to losses and legal precedents experienced by others.
4. Seek employee feedback regularly
They may have some insight on risks that come up in day-to-day business practices that you would not have otherwise considered.
5. Analyze customer complaints
It is easy to identify risks this way, especially if there are multiple reports on the same issue or hazard.
6. Use software or other web-based services
There are many out there that provide information on identifying risks unique to your organization. For example, ClearRisk offers this as just one of its many applications!
Congratulations! You've identified the risks facing your organization. But there are probably a lot of them: too many to handle at once. What now? You need to create a risk management plan that efficiently tackles the most risky scenarios. Check out our next blog on what steps to take after identifying a risk.
For more information on identifying risks and how software can help, talk to one of our risk experts.
If you found this article helpful, you may be interested in: