The City of Saint John New Brunswick has done some incredible things when it comes to Risk Management including saving the city hundreds of thousands of dollars in claims costs annually.
Before 2013, like many municipalities, Saint John was experiencing multiple issues in managing its risk and insurance data. With the number of claims and incidents on the rise year over year, they knew they needed to do something to take control of the situation. Enter ClearRisk.
In 2011, Deputy Commissioner and Risk Manager of the City of Saint John, Ian Fogan and his team started a plan to construct a proactive and cost effective risk management plan for the city.
Ian recently stated, "before ClearRisk, we weren't able to determine the cost drivers and identify trends in our data. Now we can easily report on historical and current data, allowing us to better predict future occurrences and implement measures to reduce losses. In the past five years we've reduced our annual claims costs by 50%!
The table below describes the City of Saint John before and after ClearRisk was implemented: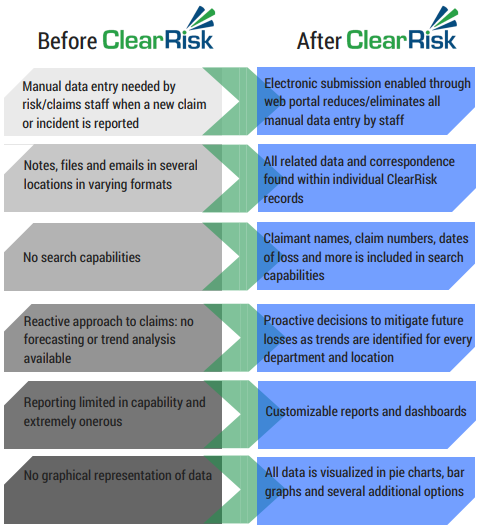 These are just a few of the solutions ClearRisk was able to help the City implement. If your organization can relate to the some of the challenges listed above, learn more about the widespread benefits ClearRisk has brought to the City here.
If you found this article helpful, you may be interested in: